Welcome!
Educational Leadership at CSUDH is a Teaching and Learning Commons – a community of faculty and students committed to collaboration around central issues in educational leadership and reform. It is a forum for exchange of ideas and evidence-based best practices, discussing policy issues, and exploring central research questions.
Ed.D. in Educational Leadership, Specialization in PreK-12 Education
California State University, Dominguez Hills will be accepting applications to the Doctor of Education (Ed.D.) degree program in Educational Leadership. The program has received approval from the Western Association of Schools and Colleges and the Chancellor's Office of the California State University System.
Educational Leadership at CSU Dominguez Hills
Designed specifically for working professionals in the field of education, the Ed.D. in Educational Leadership at CSUDH is built around seven program goals that focus on:
Visionary, Supportive, and Inclusive Leadership
Assessment and Accountability
Program Evaluation
Fiscal Responsibility and Resource Development
Alliances and Supportive Partnerships
Curriculum, Instruction and Advanced Technology
Advanced Applied Research
The program goals are woven through the three emphases offered in the CSUDH program:
Urban School Leadership, Teaching and Learning for Diverse Learners
Organization and Systemic Reform
Specialized Education Services and Supports for Special Needs Learners
This interdisciplinary doctoral program will prepare educational leaders capable of and committed to reforming schools, raising the quality of education and educational opportunity for Pre K-12 students especially in the areas of English, literacy, and special needs learners. The identification of research-based practices, program interventions, and the critical professional development of teachers will occur with the preparation of dynamic, action-oriented, reform-minded educational leaders. Developing collaboration skills and developing other critical skills through collaboration is a prominent feature of the program because professionals typically need to work with colleagues to solve real-life problems. The Ed. D. will create a collaborative culture among students, faculty, mentors, and partners. The program offers a cohort structure, small pro-seminar and research seminar groups, applied laboratories, professional mentoring, and thematic dissertations--all contributing to the development of individual and collaborative leadership that will be central to the program.
top of page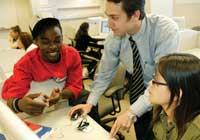 Focus on Educational Leadership
California and national educational leaders gave significant presentations on critical issues in achieving educational reform and excellence at the 2009 University Council on Educational Administration Convention:
STEM Educational Leadership

Educational Leadership Summit


Apply to CSUDH
Please Note: If you are planning to apply for Ed. D. Cohort 1, please take the Graduate Record Exam (GRE) as soon as possible. See "Tips for GRE Preparation" below. Further application information will be posted soon.

CSUDH Documents

CSUDH Links

Stay Networked Online with the CSUDH Ed Leadership Community
We know you're a working professional and have my responsibilities outside of our program. To help make it convenient and effective for you to stay networked with the professionals in the CSUDH Ed Leadership Community, we've created a very easy to use online communications forum where you can ask questions, facilitate discussions, post documents and videos, and create blogs. These asynchronous social networking tools can keep you connected in ways that you want and need.
Click here to join the Voices of CSUDH Community